Why choose an Omaha, NE Family Dentistry practice?

Since many people think that family dentistry and general dentistry are the same thing you may be surprised to hear that they are actually a bit different. While a general dentist doesn't specialize in any particular field of dentistry, a family dentist is trained to provide full dental services and treatments to patients of all ages.
Why is it a good idea to choose a family dentist? Instead of needing to make a dental appointment for you and your child separately, now everyone in the family can get the proper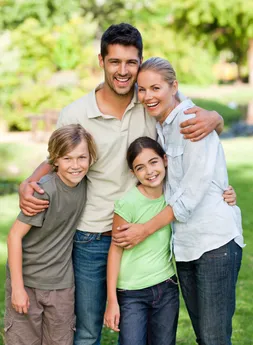 dental treatment they need in the convenience of one location.
Here at our Omaha, NE dental office we pride ourselves on being able to care for anyone's smiles, no matter if it's a toddler or a senior. Plus, we cover all forms of dentistry from general and preventive to cosmetic to meet the needs of every member of your family.
Plus, it's important that your child begins to feel comfortable and at ease when going for routine dental visits and the easiest way to do this is to have them come in by their first birthday. By coming to the same convenient, familiar office with a dental team that is compassionate and ready to make you and your child's next trip easier we'll come to establish rapport with your whole family so each and every visit is simple and stress-free. Plus, the more we know about you the more tailored treatments we can provide to keep all mouths healthy and happy.
We know that a lot goes into the decision-making process when it comes to choosing a family dentist your whole family can trust. When you come in for your first visit make sure to ask us any questions that you may have about your oral health. After all, our goal is to make sure that you feel comfortable and feel like you are being listened and attended to at all times. We believe going to the dentist should be an easy and pleasant experience for the home family and when you visit our office we hope you agree.
Whether you're selecting an insurance plan, saving for healthcare expenses, or scheduling appointments into your busy life, making time for dental care is essential for your family's well-being. Here are 4 reasons to make dental health a top priority as you plan for your family's care.

1. Dental problems can affect your overall health. Research has shown that oral health and general health are closely linked. For one, your mouth is a main portal of entry for bacteria and viruses--any infection, decay, or inflammation gives germs a better chance of entering your body.
Also, if your immune system is constantly working to fight even low-level inflammation in your mouth, it has fewer resources to keep the rest of your body working at its peak. Even if you don't notice a problem, it's still possible to have painless decay or gingivitis that compromises your health.
2. Damaged or decayed teeth can hurt your self-confidence. Don't underestimate the effect that your teeth have on your quality of life.
It's easy to write it off as simple vanity, but the state of your teeth can truly affect your image and your confidence in both social and professional situations. Keeping them in top shape is one of the best things you can do to support your overall self-esteem.
3. Tooth pain can interfere with your quality of life. Whether it's fear of dental work or of the bill that comes afterward, there are reasons why you might try to live with tooth pain longer than you should.
Chronic tooth pain can cause general irritability, difficulty getting adequate nutrition or enjoying your favorite foods, and an increased risk of more significant health problems. Catching and treating dental problems early prevents them from wreaking havoc in your life and prevents the need for bigger dental bills down the line.
4. A lifetime of good dental care helps you age gracefully. Our teeth change as we age--that's a given. But that doesn't mean they can't still look white and healthy.
Whether your teeth are all-natural or you've had some or all of them replaced, caring for the teeth you have is one of the best things you can do to take years off your appearance and keep you looking youthful.
Visiting your dentist helps lay the foundation for a lifetime of good health.



Millard Hills Dental Health Center provides quality dental care for adults and children in Omaha to help them live more confidently and protect their family's health. For more information on family dentistry or to schedule and appointment, call (402) 895-2085 today!