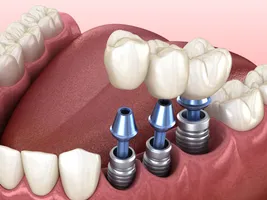 Dental implants are becoming increasingly popular with patients. They are now the solution of choice when there is a missing tooth. You may have even met a few people who have dental implants, but you wouldn't know because they look so natural. Get a more thorough understanding of what implants are and what they can do for your smile so that you can discuss them with your dentist.
Why Patients Choose Dental Implants
In the case of a missing tooth, patients have the option of getting a partial denture or a bridge. The partial is removable, which means that it could cause embarrassing moments in social settings. The bridge is semi-permanent and non-removable (except by your dentist) but it requires the removal of enamel on two healthy teeth. For these reasons and more, many patients choose dental implants instead. They are permanent fixtures in the mouth, cannot slip out, and don't need other teeth for support. When the implantation and crowning process is complete, they feel so natural that most patients forget that they're there.
The Implantation Appointments
After your initial consult, you'll go to the dentist about three times for your dental implant. At the first appointment, your dentist will position the implant device beneath the gumline. A few months later, an abutment post will be added and an impression taken for a custom crown. At the third and final appointment, the crown will be connected to the abutment and adjusted to the perfect shape.
Keeping Dental Implants Strong
Your dental implants will stay healthy and strong as long as you are taking care of your teeth and gums. The main threat to an implant is gum disease, so you should work closely with your dentist to ensure that gingivitis or periodontitis doesn't become an issue. Floss carefully and thoroughly around your implant (and your other teeth) every evening before bed.
Benefits of Dental Implants
Unlike other dental restorations, implants are designed to be permanent. Once they have healed successfully, they are virtually indistinguishable from your natural teeth. Like natural teeth, they require meticulous oral hygiene and regular dental exams and professional dental cleanings to help prevent infections and gum disease. Implants are the only restoration that help to prevent bone loss in your gums. An implant can be used to replace a single tooth, or a set of dentures — with just a few implants! If you are in good overall health and have enough bone density, dental implants may be a good option for you.
Replace your missing teeth with top-quality custom dental implants at Millard Hills Dental Health Center.
Call our office today at (402) 895-2085 to schedule your appointment!